Munich, May 23:  Today we are introducing new functionalities to the Userlane Editor.
1. Navigation Mode
When editing userlanes, users can now switch to the navigation mode which allows them to navigate around their application without their click being recorded. This is very handy when you are editing an existing userlane and want to skip to a certain point.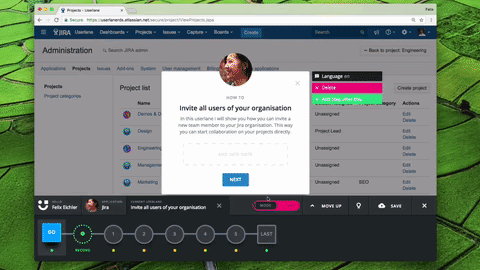 2. Flexible Editor bar
When editing userlanes, the black Editor bar at the bottom of the screen sometimes blocked elements that were located behind it. With the new version, users can now move the Editor bar to the top of the screen to clear the view on the element.
3. Record button position
Users will find the Record button that is used to capture steps at a different position. The Record button is now located between the userlane's steps down in the Editor bar. This way, it will be clearer to our new users that the recorded steps are added in between the existing ones.
We really like to interact with our customers. That's why we've integrated our support chat right into the user's Dashboard.  Therefore,  it's even easier for our clients to get in touch with real human beings who work at Userlane!